EFA and the International Association of Dermatology Patients Associations (IADPO-GlobalSkin) organised the 3rd annual World Atopic Eczema Day on 14 September. Despite moving the campaign online due to COVID-19, we saw extraordinary participation from patients, organisations, and representatives, sharing their messages in their communities and beyond.
The year's theme aimed to put the spotlight on patients, particularly young patients, but also caregivers, healthcare professionals, and public health advocates by asking each "How do YOU care for atopic eczema?" This theme helped to highlight the different ways in which atopic eczema needs to be treated, from medical treatment to managing day-to-day life. It also showed the need for patients, caregivers, and healthcare professionals to work together to manage the disease.
For the day, EFA produced two podcast episodes to highlight family life with atopic eczema and the burden of growing up with the condition. With GlobalSkin, EFA produced a toolkit, downloadable in 12 different languages, for people to use many visual elements and messaging to amplify their own experience of caring for atopic eczema.
In EFA's campaign, we shared content on social media in the weeks building up to the day, including a video, the podcast episodes, and printable signs linking up to #CareForAtopicEczema. This way, people could engage directly with the campaign to share their own experiences with atopic eczema. We spread the message across Twitter, Facebook, and LinkedIn to reach the different audiences: patients, caregivers, and healthcare providers. That way, we could spread awareness of caring for atopic eczema not just to those impacted directly, but to help others understand the burden of atopic eczema and what they can to do help patients.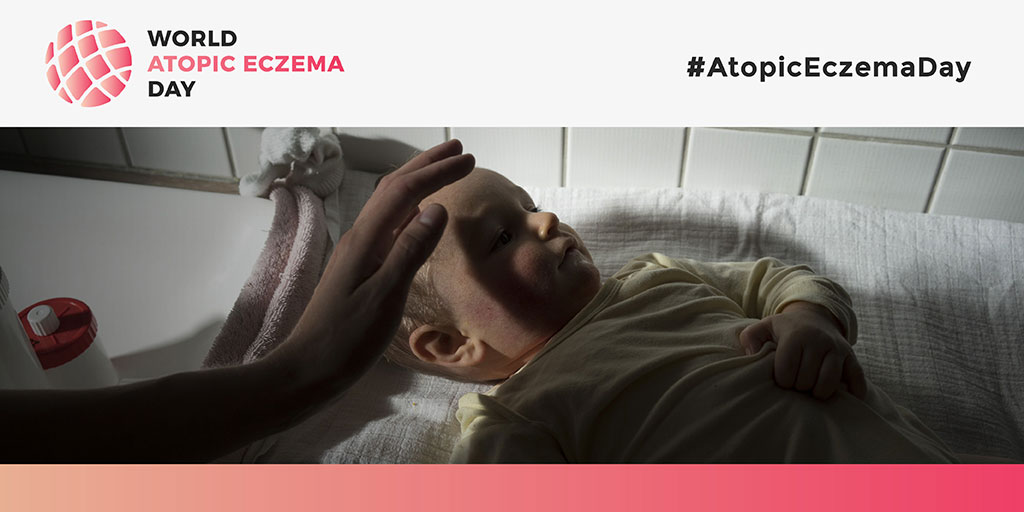 Through our campaign, EFA reached a total of 389,123 social media engagements and 2,562 toolkit page visits in the build up to and during the day, showing just how much patients with atopic eczema deserve to be heard. Up to 15 EFA Members took part in the campaign, using EFA campaign materials or their own content.
EFA was the most influential Twitter account in the campaign. EFA tweeted a total of 22 times in relation to the campaign and garnered 97 retweets. This was higher than any other account and had a potential impression number of 44.9k with an engagement rate of 4.4%. In the face of rapid changes due to COVID-19, EFA managed to coordinate and lead a very impactful and effective campaign for World Atopic Eczema Day.
We would like to thank the members of our Atopic Eczema Working Group and to GlobalSkin for their coordination in the build up to and on the day.
Bringing the atopic eczema patient voices to medical congresses
We organised a patient-led session on the socio-psychological burden of atopic eczema for patients and their families during the 29th Congress of the European Academy of Dermatology and Venerology (EADV). EFA' session was the second most viewed on demand during the EADV Congress, with 1,447 views by January 2021. During Congress, we also held a virtual booth in the Patient Society Village.
In line with World Atopic Eczema Day 2020, we addressed what living with atopic eczema means. The session focused on how a collaborative approach can improve patients' Quality of Life. EFA Board Member Carla Jones and Prof. Alexandros Stratigos, EADV President, welcomed the participants and gave a short introduction on the quality of life of people living with atopic eczema and their families. Magali Redding, a carer and CEO of the organisation Eczema Support Outreach, presented her experience as a mother of a child affected by atopic eczema including the challenges and the burden she and her family experienced daily. Prof. Carsten Flohr presented the healthcare professional point of view, highlighting the importance of a multidisciplinary approach in the treatment of atopic eczema. Finally, during a roundtable, our panellists, joined by Prof. Erkka Valovirta and nurse Gitte Rasmussen, responding to the key messages shared by patients and carers in our podcast series on atopic eczema "Skin in the game".
We would like to thank our expert speakers and moderator for contributing to a fantastic session. In a time of increasing demands and concerns, we were delighted by the level of connection and commitment to addressing the burden of Atopic Eczema for all patients.