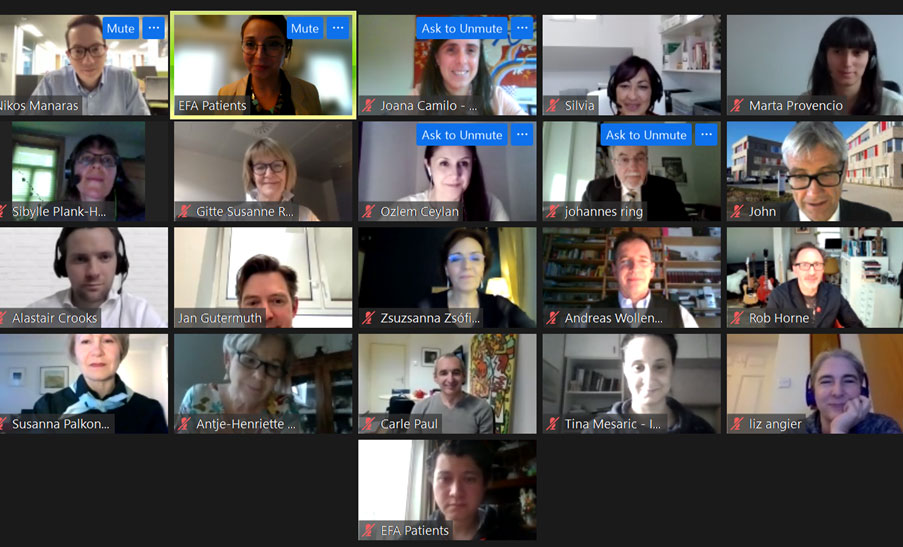 [Atopic Eczema Consensus Europe Committee]
Atopic eczema care in Europe remains a challenge as it continues to experience setbacks. For EFA, the lack of a clear recognition of the burden that atopic eczema poses to patients is resulting in the disease being treated as secondary and "less serious" chronic disease. In 2021, EFA sought to change this situation through a project on the healthcare professional/patient Consensus as to the Burden that Atopic Eczema/Dermatitis represents for Patients.
Consensus Committee Europe
Early 2021, EFA formed a multidisciplinary expert Committee of 15 key opinion leaders from the atopic eczema community, these represented patients, patients' representatives, and healthcare professionals with diverse backgrounds. Together they discussed and built common ground on the physical, social and economic burden caused by Atopic Eczema.
During the year, EFA facilitated two meetings that allowed the Committee to exchange their expert knowledge and informed perspectives on the challenges faced by atopic eczema patients. They were also able to hold fruitful discussions on potential solutions. The latter discussion on current challenges allowed for the creation proposed recommendations to quickly and fully address these solutions.
Atopic Eczema Consensus Report
The agreements reached by the Committee are collected in a report that focuses on the atopic eczema patient journey and the centrality of multidisciplinary care to improve the Quality of Life for patients and their families. It also makes clear recommendations to policymakers and asks for concrete actions at national and European level to bury the persisting approach of deprioritising the care needs of atopic eczema patients.
The report is expected for the first half of 2022 and will be a key regional advocacy instrument for the atopic eczema community of patients and healthcare professionals. This will give them the tools necessary to request changes in the current patients' access to quality of care to be based on the real burden of atopic eczema. EFA will also be developing an advocacy toolkit to guide the patient efforts at national level.
EFA thanks the Committee Co-Chairs, prof. Wollenberg and Ms Camilo, the members of the Committee*, Dr Silvia Ruiz for leading the Report draft, Acumen Public Affairs for the support in the meetings facilitation.
* Members of the Committee of Atopic Eczema Consensus Europe project:
| | | |
| --- | --- | --- |
| Name | Title and Affiliation | Country |
| Dr. Elizabeth ANGIER | Clinical Director, Primary Care - West Hampshire Clinical Commissioning Group - University of Southampton | United Kingdom |
| Ms. Joana CAMILO | Founding President of the Portuguese Association of Atopic Dermatitis (ADERMAP) and Executive Director of Creating Health | Portugal |
| Ms. Özlem CEYLAN | Founding President of Living with Allergy Association | Turkey |
| Prof. Mette SONDERGAARD DELEURAN | Chairman, MD, DMSc, Department of Dermatology University of Aarhus | Denmark |
| Prof. Jan GUTERMUTH | Chairman of the Department of Dermatology & Head Skin Immunology & Immune Tolerance Research Group - University Hospital Brussels | Belgium |
| Prof. Swen Malte JOHN | Chairman of the Department of Dermatology, Environmental Medicine - University of Osnabrueck | Germany |
| Ms. Tina MESARIC, PhD | Project leader - Institute Atopika | Slovenia |
| Prof. Carle PAUL | Full Professor and former chairman, Department of Dermatology at Larrey Hospital - CHU Toulouse and Paul Sabatier University, Past President European Academy of Dermatology and Venerology | France |
| Ms. Sibylle PLANK-HABIBI | Head of Dietitian Team, Department of Dermatology and Allergology - Vital Klinik Alzenau | Germany |
| Ms. Gitte RASMUSSEN | Clinical Nurse Specialist, MScN, Department of Dermatology and PhD student - Aarhus University Hospital | Denmark |
| Prof. Johannes RING | Professor and former Chairman of the Department of Dermatology and Allergology - Technical University of Munich (TUM) | Germany |
| Dr. Esther SERRA BALDRICH | Deputy Physician Head of the Skin Immunoallergic Diseases, Dermatology Service - Hospital de Sant Pau, Barcelona | Spain |
| Ms. Snežana ŠUNDIC VARDIC | President of Allergy and Me | Serbia |
| Prof. Zsuzsanna SZALAI | Leader of the Department of Paediatric Dermatology - Heim Pal National Children's Institute Budapest | Hungary |
| Prof. Andreas WOLLENBERG | Professor and Head of Conservative and Pediatric Dermatology Unit, Department of Dermatology - Ludwig-Maximilian University, Munich (LMU) | Germany |