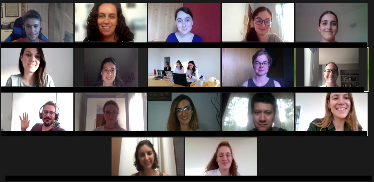 The members of the Youth Parliament come together in regular virtual meetings to discuss and express opinions on health issues that affect our daily lives.
As a diverse network of young patients, we are equipped with a variety of personal experiences and backgrounds, which we use in our aims to improve our skills as patient ambassadors.
The Youth Parliament is open to all young people in Europe living with allergy or asthma, or scientific advisors and healthcare professionals who are interested in understanding the patients' perspective.
"We have one hour-long meeting per month and how much time you spend in between those is up to you. If you have the time and there is a consultation or workshop you are interested in you get the support to engage as much as you want but everyone is also very understanding that sometimes school, work or other things have to come first."
If you are aged 16-30 and interested in joining the European Allergy and Asthma Youth Parliament, you can apply here.
For more information, contact This email address is being protected from spambots. You need JavaScript enabled to view it.
Follow the Youth Parliament on LinkedIn
Follow our work on social media: #AllergyAsthmaYouth