EFA's first ever organized European day focused on atopic eczema and took place on September 14th 2018 during the European Academy of Dermatology and Venereology (EADV) Congress in Paris. The event served to build and launch the coordinated patient voice on atopic eczema in Europe, in collaboration with the Global Skin organisation, who launched a World Day at the same time.
'Atopical Lives' a photo exhibition featuring the life and portraying the people behind atopic eczema
Following our essence, we shed light into the real burden of atopic eczema with an impactful series of testimonials developed by photojournalist Lurdes R. Basolí, who travelled Europe to meet 13 patients from Czech Republic, France, Italy, the Netherlands and Spain. Half of them took part in the photo tour organized in Paris on September 13th, an emotional experience for all participants in the visit, including the EFA team.
Media and partners echoed the first edition of the atopic eczema day
EFA press and social media work ahead of the action day resulted in four European and several national media reporting. The atopic eczema report had a special influence in Spain with 38 national media hits, following a pilot public relations project led by EFA and our Spanish Members AEPNAA and FENAER. We also welcomed specialized journalists during EADV to a Press Briefing on the results of the Quality of Life survey and the impressions of the patients. We warmly thank Bernd Arents from VMCE and Marjolaine Hering from Association Française de l'Eczéma for sharing their experiences with the journalists.
We also thank our Members for their mobilization to draw attention to atopic eczema at national level through the use of an atopic eczema filter and EFA coordinated messages. Our collective voice got the attention and support of individual personalities, partners and public authorities, such as the European Medicines Agency and the European Chemicals Agency.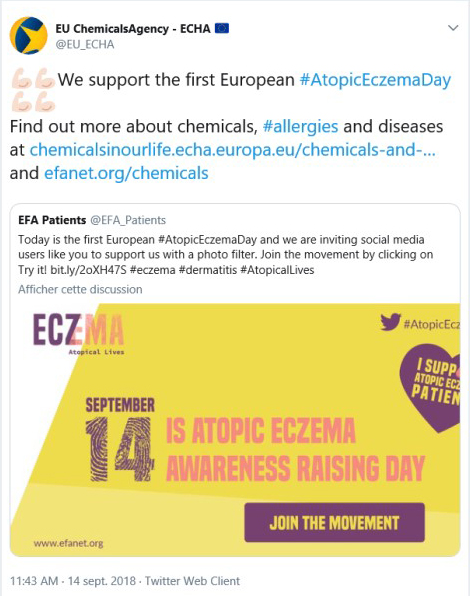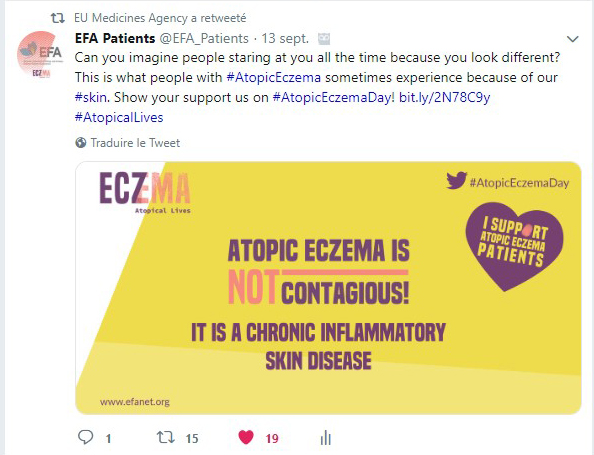 Thanks to the EU organisations that supported @EFA_Patients during the atopic eczema day.