Brussels, 5 May 2023 - The European Federation of Allergies and Airways Diseases (EFA) awarded last week the first edition of the EFA Patients' Digital Prize for e-health technologies for asthma and chronic obstructive pulmonary disease (COPD) care. Whether they are connected medical devices, telemedicine, e-health apps or digital health platforms, chronic respiratory disease patients need to be at the core of the technologies that support them self-managing their care and getting support from their healthcare professionals. This was the principle behind the work of the jury1, which selected one winner in each of the three competition categories: AsthmaTuner by Medituner AB won in the best digital technology for asthma care, RespiraSense by PMD Solutions triumphed in the best digital technology for COPD care category, and NuvoAir Home from NuvoAir earned the award for best digital technology for both asthma and COPD care.
"We are impressed by the level of commitment to patients' empowerment demonstrated by the winners of the EFA award. Thanks to them, we now have proofs that it is possible, ethical and efficient to embed the patients' input throughout the whole cycle of digital care development. We hope this award serves encouraging the digital health sector to work together with patient organisations to develop solutions that create more open, inclusive, collaborative and patient-centred healthcare", says Marcia Podestà, EFA President. The applicants for the EFA Patients' Digital Prize fulfilled a thorough questionnaire that served to evaluate the development process and assess their solutions against six crucial criteria: accessibility, partnership with healthcare professionals, convenience, support and security, prevention, and equity.
AsthmaTuner, from Medituner AB, is a digital medical device distributed in Sweden, Norway, Denmark and the USA. It is used as a self-management device for patients with asthma. The app allows patients to have instant and objective instructions on how to adjust treatment based on the variability of their disease. "Our main focus has always been to develop solutions that stem from the patient's needs and gives valuable information back to the patient. We are so proud to accept this award and look forward to continuing our work for patients with asthma as well as to continuing to improve solutions for other respiratory diseases", said Johanna Edoff, Head of Implementation and Customer Success at AsthmaTuner.
RespiraSense, from PMD Solutions, is an accurate, motion tolerant and continuous respiratory rate monitor that measures chest and abdomen movement associated with the mechanics of breathing. "By working in partnership with payers, providers and patients, we've been able to co-create and manage service that empowers patients to be a key partner in the management of their condition while equally empowering clinicians with the early warning of exacerbation, all the while removing the technology burden from the Healthcare System", said Myles Murray, PMD Solutions Founder and CEO.
On the category for best digital technology for both asthma and COPD care, the jury awarded the prize to NuvoAir Home from NuvoAir, which is a platform designed to enable data sharing between healthcare professionals and people with long-term respiratory conditions. This allows clinicians to make faster decisions while helping patients to understand better their lung health. "Our solution would not be where it is today without the input of people who have lived with lived experience of respiratory conditions. So to be recognized as empowering people with COPD and asthma is something we are very proud of, and it drives us to continue to improve the healthcare experience for cardiopulmonary patients", said Helen Parrott, Director of Clinical Operations & Evidence at NuvoAir.
The prize is part of DIG_IT, EFA's Digital Information Technology Project, started in 2022 to provide a deeper understanding of the benefits, barriers, and concerns around digital health for asthma and COPD patients, as well as to develop insights into the patient digital journey in respiratory health. EFA surveyed 2 nearly 1000 asthma and COPD patients in five European countries and the findings have been translated into the DIG_IT Report: Asthma and COPD Patients' Digital Journey in Europe, with patient recommendations for policymakers, academia, and the technology sector.
The DIG_IT Report was funded with unrestricted grants from EFA'S Sustainable Corporate Partners Astra Zeneca, Chiesi, MSD, OM Pharma and Roche. The prize is being made possible thanks to unrestricted grants from EFA's Sustainable Corporate Partners Chiesi and Roche.
All the applicants acknowledged the Terms of Reference for the competition, that can be read in the prize web page. The recordings of the awarding ceremony are available on EFA Youtube channel.
---ENDS---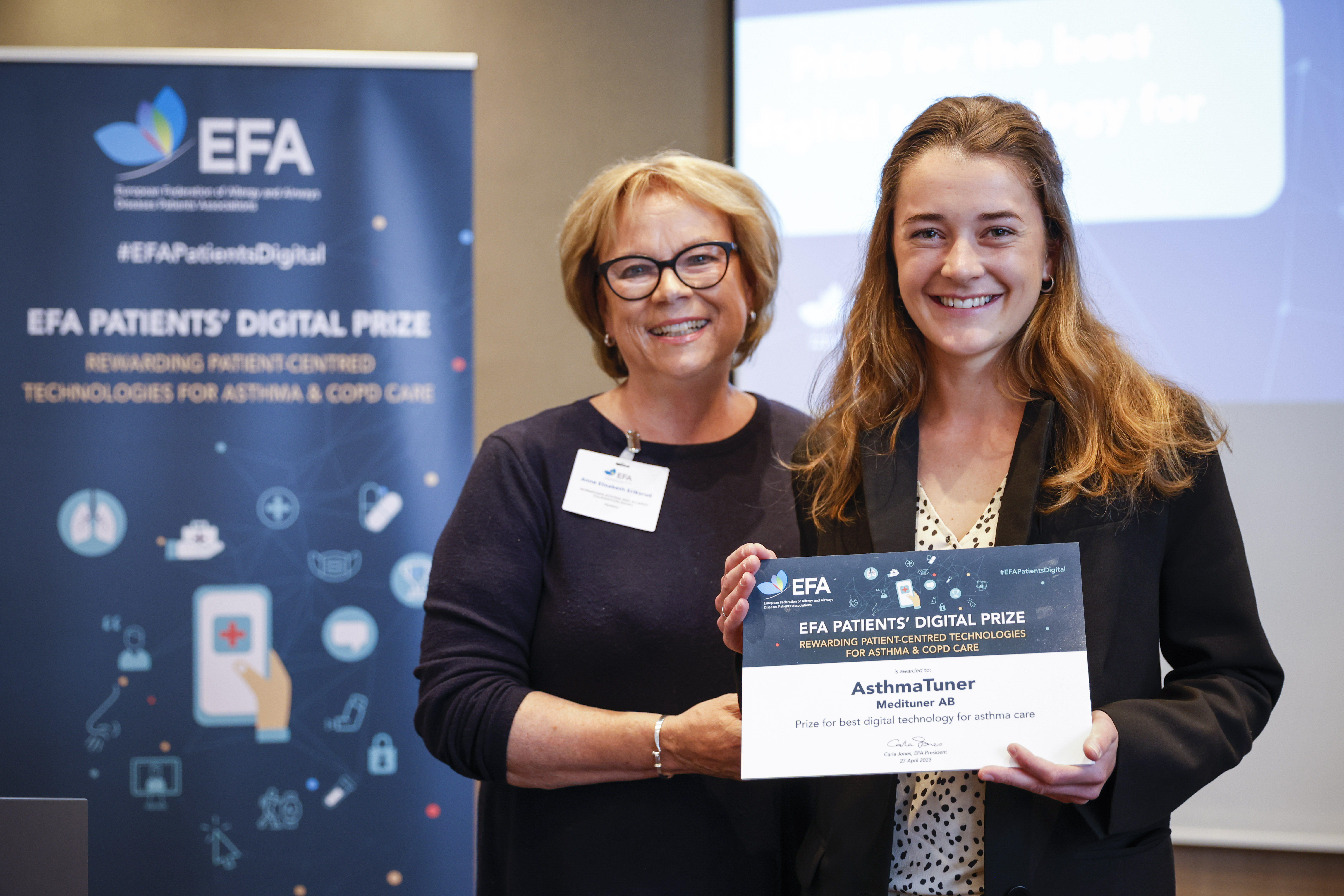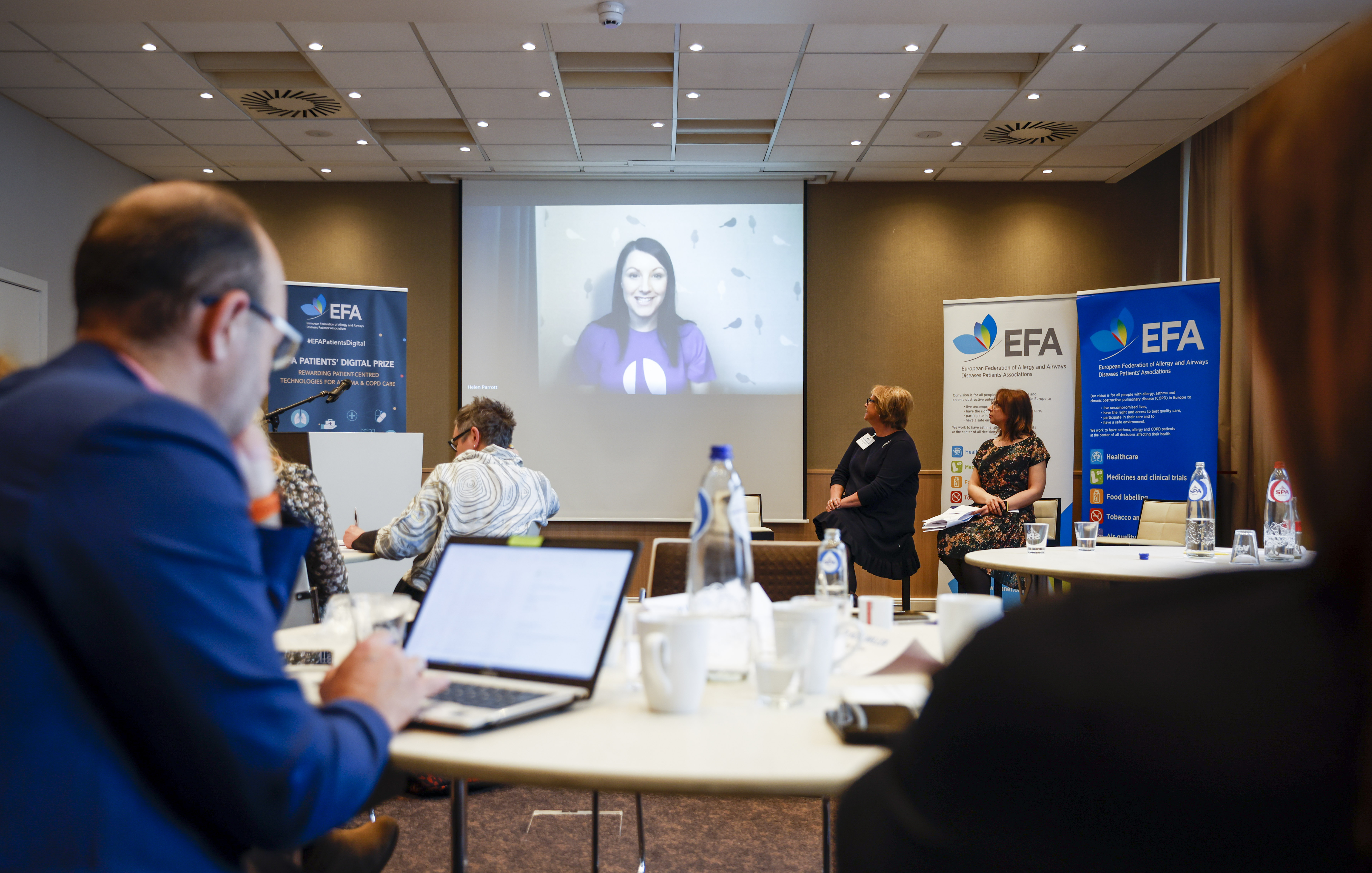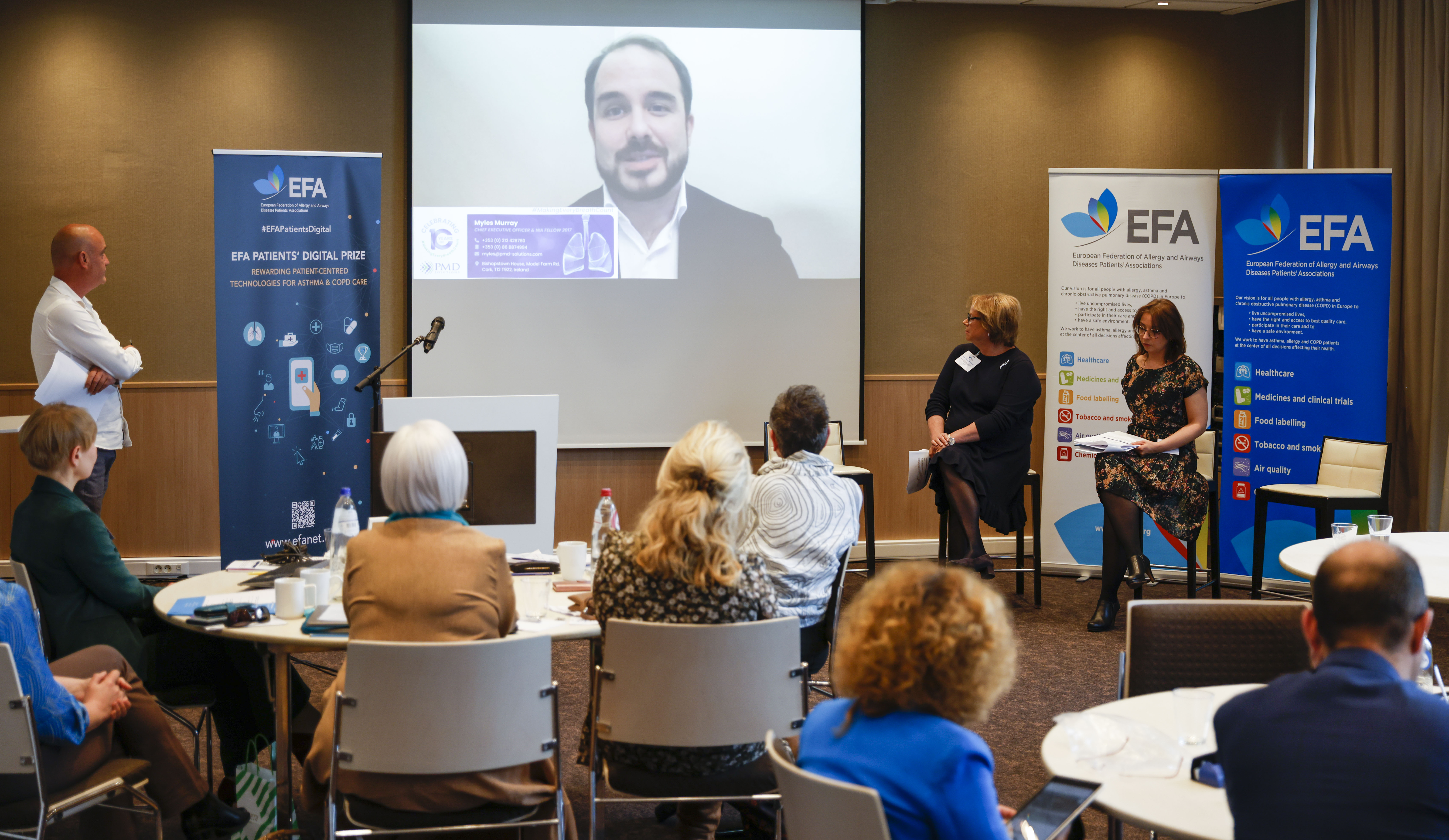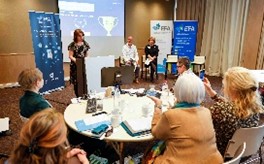 From left to right:
Jury member Anne Elisabeth Eriksrud, Norwegian Asthma and Allergy Association, with Johanna Edoff, Medituner (AsthmaTuner).
Helen Parrott, NuvoAir.
Myles Murray, PMD Solutions.
The ceremony in Ghent (Belgium).
Image credits are © EFA/Elio Germani.
Other pictures of the ceremony can be downloaded here.


Note to editors
The European Federation of Allergy and Airways Diseases Patients' Associations (EFA) is the voice of the 200 million people living with allergy, asthma and chronic obstructive pulmonary disease (COPD) in Europe. We bring together 45 national associations from 26 countries and channel their knowledge and demands to the European institutions. We connect European stakeholders to ignite change and bridge the policy gaps on allergy and airways diseases so that patients live uncompromised lives, have the right and access to the best quality care and a safe environment. Learn more at efanet.org.
Applicants and jury members have been informed by EFA's 'DIG_IT Report: Asthma and COPD Patients' Digital Journey in Europe', EFA Patients' Digital Prize Terms of Reference for Applicants and EFA Patients' Digital Prize Terms of Reference for Jury Members.

The EFA Patients' Digital Prize acts purely as a recognition and acknowledgement of digital developments in health which put patients at the heart of digital solutions. The EFA Patients' Digital Prize does not certify in any form whatsoever the use of an end product that arises from the submission(s). The prize applies only to the digital technology as submitted by the applicant, and not to any subsequent developments of that digital technology. As such, EFA does not take any responsibility for, nor does it recognise any of the further developments of, the submission beyond what has been submitted for the prize consideration.
The EFA sponsors for the prize have no responsibility on the winning technologies of the prize for this EFA's independent project.
Jury members were representatives from patients' associations, healthcare professionals as well as corporate executives from the digital health sector.

Further inform

ation

here

.
For more information contact EFA Communications team: This email address is being protected from spambots. You need JavaScript enabled to view it. +32 (0) 2 227 2712