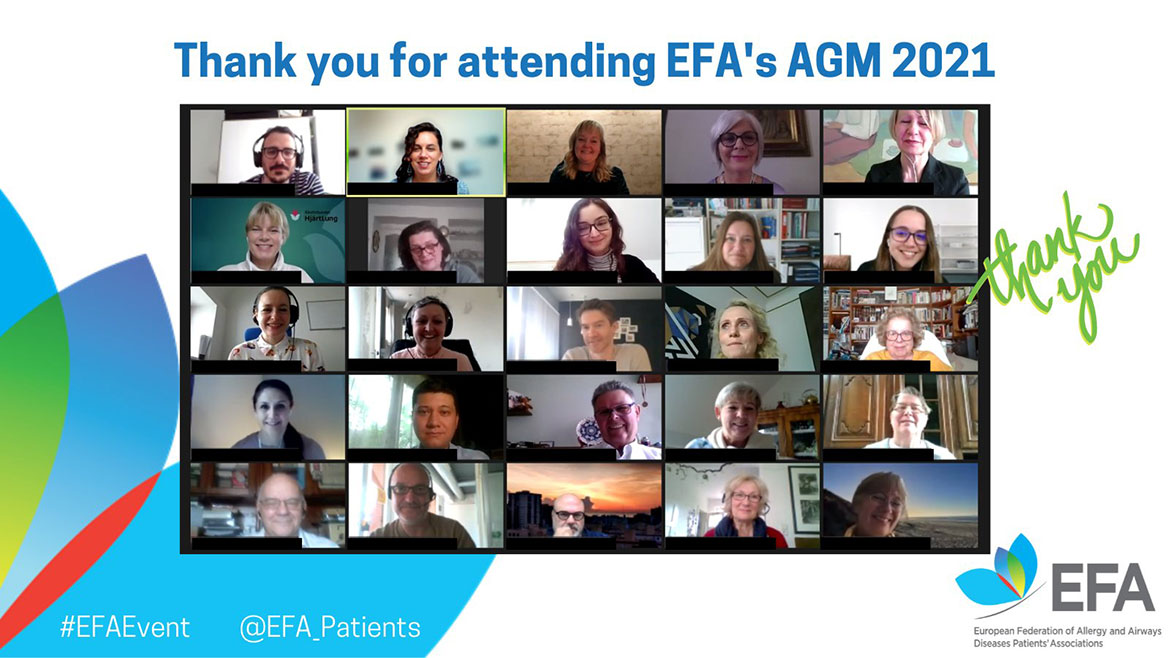 [EFA 2021 Annual General Meeting]
On 27 and 28 May 2021, EFA hosted its second virtual Annual General Meeting (AGM). Despite continued challenges presented by the COVID-19 pandemic, it was again a fully functioning AGM in which Members elected their new EFA leadership, shared best practices, and set the tone for a fruitful year.
The AGM elected a new Board, which comprises of:
Carla Jones, CEO of Allergy UK, as EFA President
Marcia Podesta, President of Food Allergy Italia, as EFA Vice-President
Fríða Rún Þórðardóttir, Chairperson of Asthma and Allergy Association of Iceland, as Board Member
Yvonne Spies, Programme Director of Longfonds, as Board Member
Armando Ruiz, Global Relationship Manager of FENAER, as Board Member
EFA thanked long-time President, Mikaela Odemyr from the Swedish Asthma and Allergy Foundation, and Vice-President, Erna Botjes from the Dutch Food Allergy Organisation who completed their mandates. Their dedication and leadership were emotionally recalled by the AGM.
The AGM also elected three new Members: the Italian Respiriamo Insieme and the Turkish Living with Allergy Association as full members, and the Institute Atopika of Slovenia as a trial member. EFA now represents 42 national patient associations across 25 European countries.
After a full day of business, EFA invited Members for a second day of networking activities. In a showcase of network excellence, EFA welcomed the following Member presentations:
'Masterclasses for healthcare professionals on education and raising awareness of allergic disease' presented by Simone Miles, Operations Director at Allergy UK
'Management of Food Allergy and Anaphylactic Emergency at School' presented by Marcia Podesta, President of Food Allergy Italia
'Physical activity for respiratory patients' presented by Liliya Gentet, Board Member of FFAAIR