#1: AtopicalLives online photo exhibition and video
Our AtopicalLives online photo gallery and video introduces eczema patients from several countries and shows their daily lives with the disease, the happy and the serios moments, the everyday dealing with it, patients as people like anyone of us documented by award winning photographer Lurdes Basoli. We are happy to see the gallery being visited frequently, with many users sharing stories about their personal experience with atopic eczema. You can also download high quality pictures to use in raising awareness of atopic eczema for not for profit purposes.
#2: Social Media outreach
Promoting Atopic Eczema Day, EFA carried out a substantial social media campaign on Twitter and Facebook, informing the public about the disease and asking people to share our messages.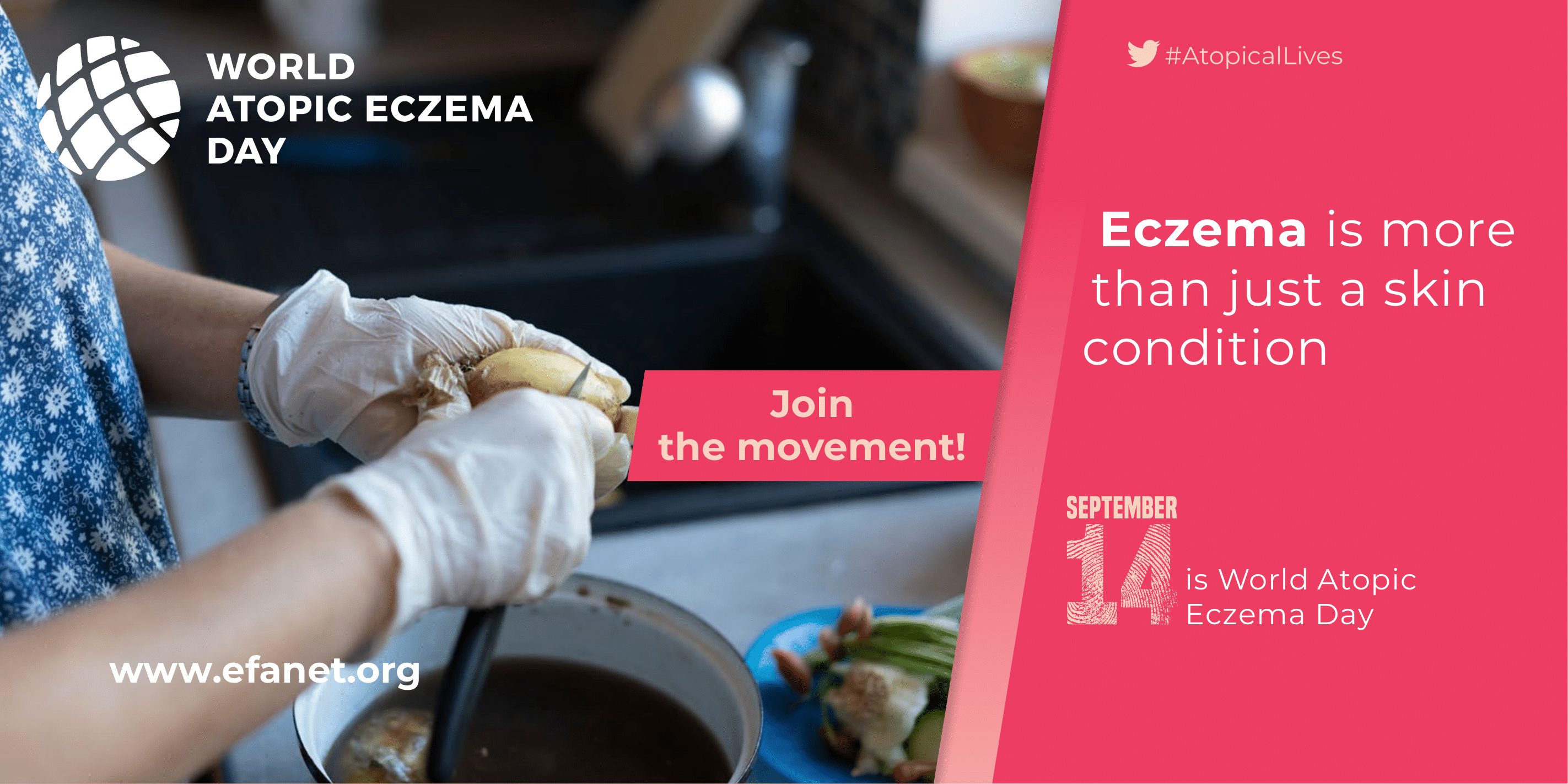 We were glad to see an amazing response to our messages and engagement with our prepared materials:
EFA had phenomenal success with its AED social media campaign. Our reach included over 350,000 impressions for Twitter and 700,000 views for Facebook. EFA's Atopic Eczema Day infographic had 300,000+ views alone with over 1,000 organic likes and 12,000+ engagements, and the new Atopical Lives video had 146,000 views with 20,000+ play throughs of the video. The new Atopical Lives web page ad had a view rate of 145,000+! We thank the partnership with Global Skin, our members and most of all the patients and people who share these stories. We also thank our partners, and agencies that we work with, in particular the European Medicines Agency (EMA) for having supported the day.
#3: Media outreach
Raising awareness for atopic eczema and the people living with it, we were happy to receive support also by several national and European media outlets. On the European level, our press send-out has been published by Euractiv and the Parliament Magazine.
#4: Events across Europe
EFA participated at Wereldeczemdag in Utrecht, Netherlands, led by the VMCE. The attendance rate was 300+ on a sunny day – a feat for any event. The events included not only reports from the University of Utrecht's survey on atopic eczema but lively workshops for children, yoga classes, nutrition seminars and a brave actor portraying life with atopic eczema in an innovative theatre piece. We are happy to report that the Atopical Lives exhibition photos were screened at the event. The exhibition will travelling to Italy, where FEDERASMA is hosting an exhibition 3-13 October.
The atopic eczema patients' association Atopikerna, together with the Swedish Asthma and Allergy Association organised an event with 90 participants to launch a report "Atopiskt Eksem" on atopic eczema in Sweden as a forgotten public health issue, one million of Swedes are affected! Atopic eczema also featured predominantely on Sweden's TV4 Nyhetsmorgon (morning news) and TV4 Nhyeterna (nighly news) prgorames. They were also present in pharmacies across Sweden to raise awareness.
Our French members French Eczema Association, AFPRAL and Asthma and Allergies Association organized a yoga session and were actively communicating on atopic eczema in (social) media. Besides a joint press-release, a special issue of the eczema magazine has been distributed in Bordeaux, Lyon, Nantes and Toulouse.
We were especially happy to see our applicant member Allergija I Ja from Serbia carrying out an event on Atopic Eczema Day in Beograd. More information on the event can be found here.
Director of Environmental Medicine, Prof Dr Claudia Traidl-Hoffmann, together with the allergy-information service (Helmholtz-Zentrum München) organized an information and awareness day around atopic eczema, care and current research at the University-Hospital of Augsburg (Germany).
Several doctors, researchers and patient representatives attended the event and provided information about current research projects, atopic eczema in children, treatments and skin care. More information on the event can be found here.
As it is barely possible to be aware of all happenings around Europe connected with Atopic Eczema Day, we would be happy to receive additional information on events that happened or media coverage around atopic eczema day at This email address is being protected from spambots. You need JavaScript enabled to view it. so that we can promote your action.