Ahead of this important meeting, EFA produced a video statement which looked into the lessons learnt from the implementation of WHO Health2020 framework in the European region.
WHO's work in 2018/19 and landmark policy documents
The 69th edition of the WHO Regional Committee meeting took stock of the work of the regional office in 2018/19, and discussed landmark policy documents. These include the implementation of the Health2020 framework, health literacy, and the challenge of health inequality. In the EFA video statement, EFA Policy Officer Panagiotis Chaslaridis underlines, among others, the important role of this visionary roadmap in reducing inequalities and streamlining the health-in-all-policies concept, and urged to #ShowLeadership in chronic diseases, citing our recent reports on asthma, COPD and atopic eczema.
Crown Princess praises Health2020 and calls for strengthened health equity
The conference was opened by the Crown Princess Mary of Denmark, patron of WHO Europe, who praised the European health policy framework Health 2020, as an important tool in promoting Sustainable Development Goals and collective action on health.
However, health inequalities persist. Therefore, Princess Mary called for strengthened health equity, and further investment in access to immunization. Regarding vaccines, she stressed that countries and partners should do more to reach out to all parts of societies with fact-based information.
Health2020 improves health outcomes in the Region
Director-General of WHO, Dr Tedros Adhanom Ghebreyesus, acknowledged the contribution of Health 2020 in improving health outcomes in the Region. Yet significant problems remain, including inequality both between and within countries, the high use of tobacco, and considerable variations in vaccination rates.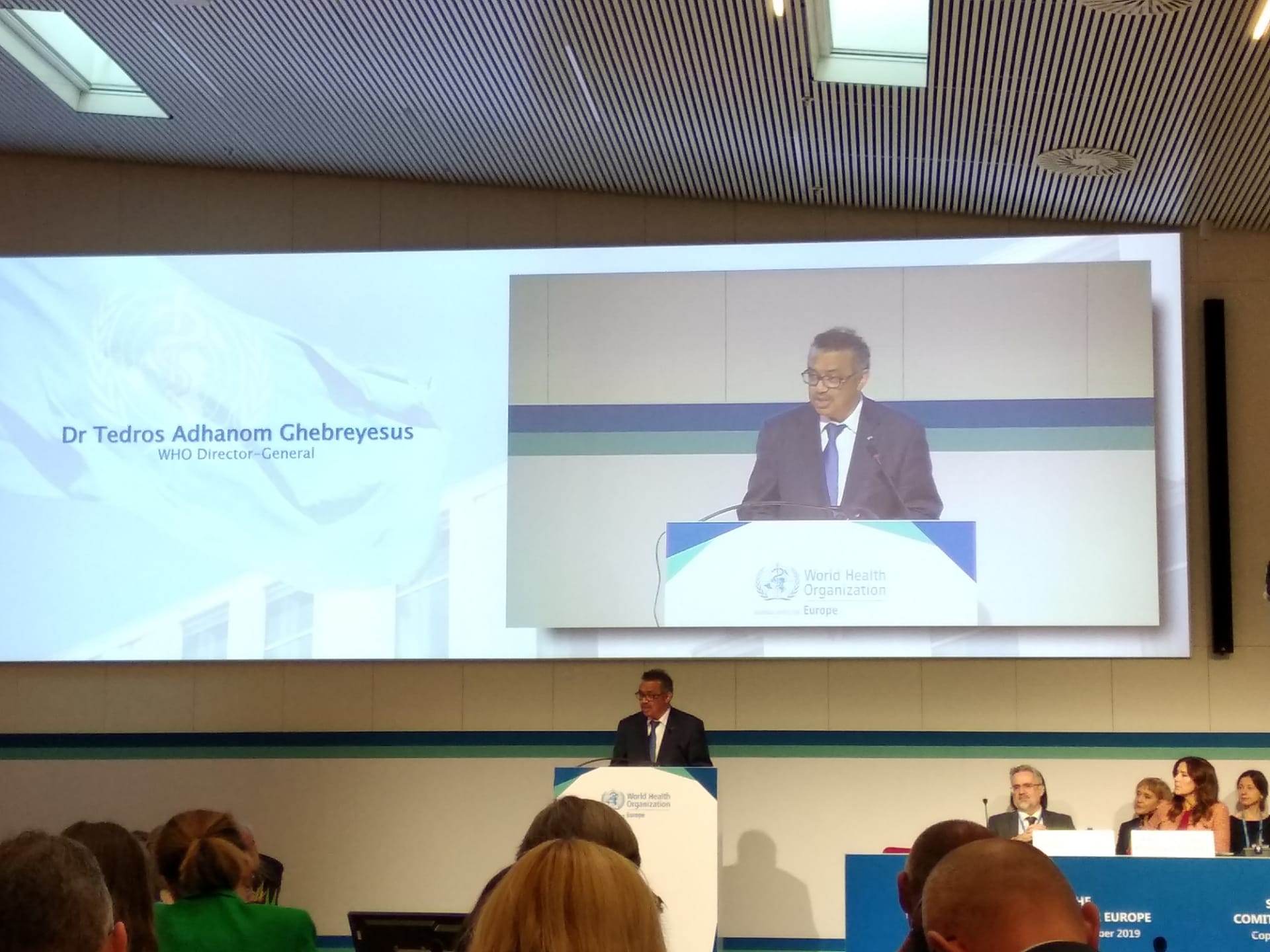 Health impacts every economic sector
Dr Zsuzsana Jakab, WHO Regional Director, stressed the positive development, that health is no longer seen only as a hospital care issue. It is rather key to economy, trade, and environmental policy, but also an economic sector in its own right.
To make Health2020 work better, Dr Jakab said WHO will have to gain the trust of countries and regions in the work of the Regional Office, and improve governance.
Second day focused on Health2020 implementation
In a panel discussion, John Ryan, Director of Public Health, Country Knowledge and Crisis Management at the European Commission Directorate General for Health (DG SANTE) summarised Health2020 as a solid piece of work that has influenced the Commission policymaking agenda in many respects. He pointed out that the Commission looks forward to continue its cooperation with WHO at all levels.
Päivi Sillanaukee of the Finnish Ministry of Social Affairs and Health, highlighted her country's contribution to the Health2020 process. Being a country with a long tradition in health equality, Finland has developed the concept of the 'economy of well-being'.
Health inequalities still a challenge, vaccination remains high priority
On the third day of the conference, Anne Bucher, Director-General of DG SANTE, provided a keynote speech focusing on the wide-ranging collaboration between EU and WHO. She stated that inequalities still presents a huge challenge, and noted that vaccination is set to remain a high priority action point for the next European Commission.
At the end of the conference, EFA co-signed a joint written statement on the role of leadership in health policy.