Madrid, 12.10.2019. Between the 9th and 11th of October, EFA was present at the largest dermatology congress, European Academy of Dermatology and Venereology, the EADV in Madrid. The congress is a mixture of the latest science sessions, exhibitions, presentations and posters, and patient representation. It is with this rationale that EFA brought the European atopic eczema patients' needs and perspective, which we believe need to be at the core of science.
Understanding the people behind chronic disease
We were happy to welcome many interested visitors at our Atopical Lives booth in the congress' patient society village. While distributing the EFA European Report on "Quality of Live and costs for people with severe atopic eczema", we also presented our AtopicalLives online photo exhibition featuring patients and families with atopic eczema as people, doing things they enjoy, while portraying the real impact of the disease in their daily life. This is a different facet than can be seen in science.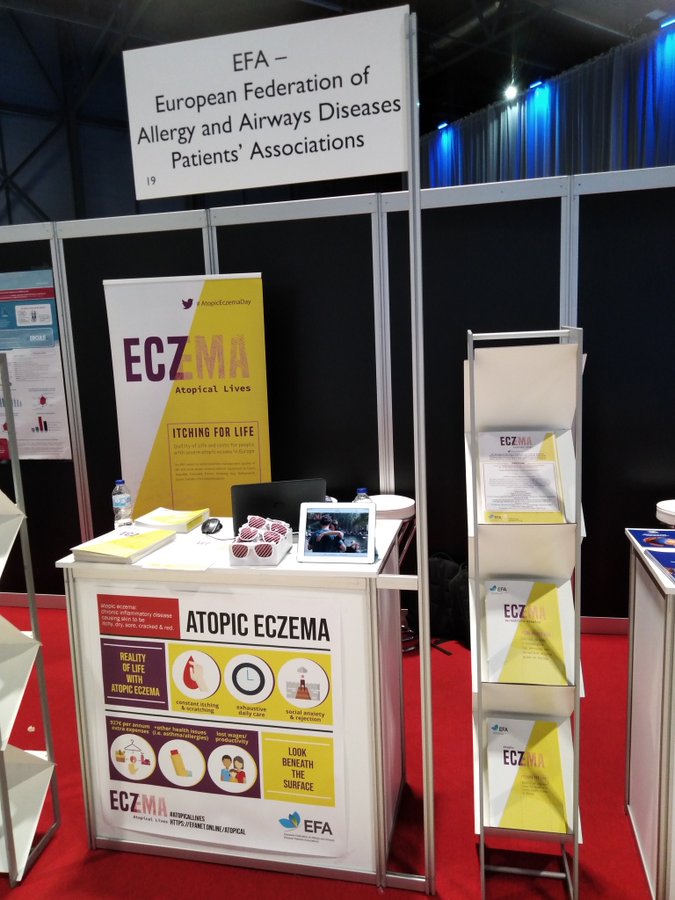 Sharing knowledge and experience among patient groups, across the globe and across healthcare professionals
During the congress we took the chance to connect with many other patient organisations present in the patient society village and actively working on skin conditions and chronic skin diseases. Discussions with patients, patient representatives and healthcare professionals allowed an opportunity to share knowledge and personal experiences and to discuss with the EADV how to make patient participations more and more meaningful in next congresses.
Livestreaming on "Improving Quality of Live in Atopic Eczema"
A highlight of the Congress was the EFA/IADPO patient-driven session on how to actually improve quality of live in atopic eczema beyond the physician consultation. Chaired by EFA Vice-President Erna Botjes and supported by EFA partner Global Skin, the session brought together patients and top dermatology experts to discuss the needs and best practices on multidisciplinary care for atopic eczema in Europe to support quality of life.
A patient-centred, multidisciplinary and collaborative approach to care is needed, which is not surprising, but would be a game changer for patients, especially if implemented all over Europe. Arguably, atopic eczema is THE condition where it is almost a precondition, as psychological impact is significant and great care and personal investment are needed every day by atopic eczema patients.
EFA sincerely thanks our panellists Marie-Anne Morren, Johannes Ring, Dagmar Simon and Christian Vestergaard for participating in the roundtable discussion and for sharing their expertise on multidisciplinary care and from GlobalSkin, Jennifer Austin, for their partnership. A recording of the session is available online. The agenda of the event can be found here. More information on the speakers can be found here.
"Patient-centered" also means involving patients
We especially thank Idoia Moran for being part of our session at the EADV congress. As a young patient with atopic eczema, she provided important personal experience on living with the disease. Sharing insights into her extensive daily routine on atopic eczema, Idoia also explained why she needs flexibility in receiving care and treatment. "I can't schedule my breakouts to upcomming consultations", she said.
Shortly after World Atopic Eczema Day on September 14th, the EADV Congress was an opportunity to further raise awareness and understanding of the disease and the people living with it, and to provide a forum to discuss the collaboration needed to make a change. We were pleased to participate and are looking forward to the 2020 congress in Vienna with ever-improved opportunities to integrate the patient perspective into European science and healthcare.