In connection with the #ShowLeadership campaign and our recently published ACCESS report, EFA organised an event in the Strasbourg European Parliament, hosted by Member of the European Parliament (MEP) Aldo Patriciello (EPP, IT) on November 26th.
Addressing prevention, diagnosis, cure and treatment in the most appropriate manner
"I want to support the activity of EFA, being certain that through these discussions we can write important new pages in favour of European citizens", said MEP Aldo Patriciello in his opening remarks. He added that "Only by reducing fragmentation of individual health systems, concerns such as prevention, diagnosis, cure and treatment can be dealt with in the most appropriate manner."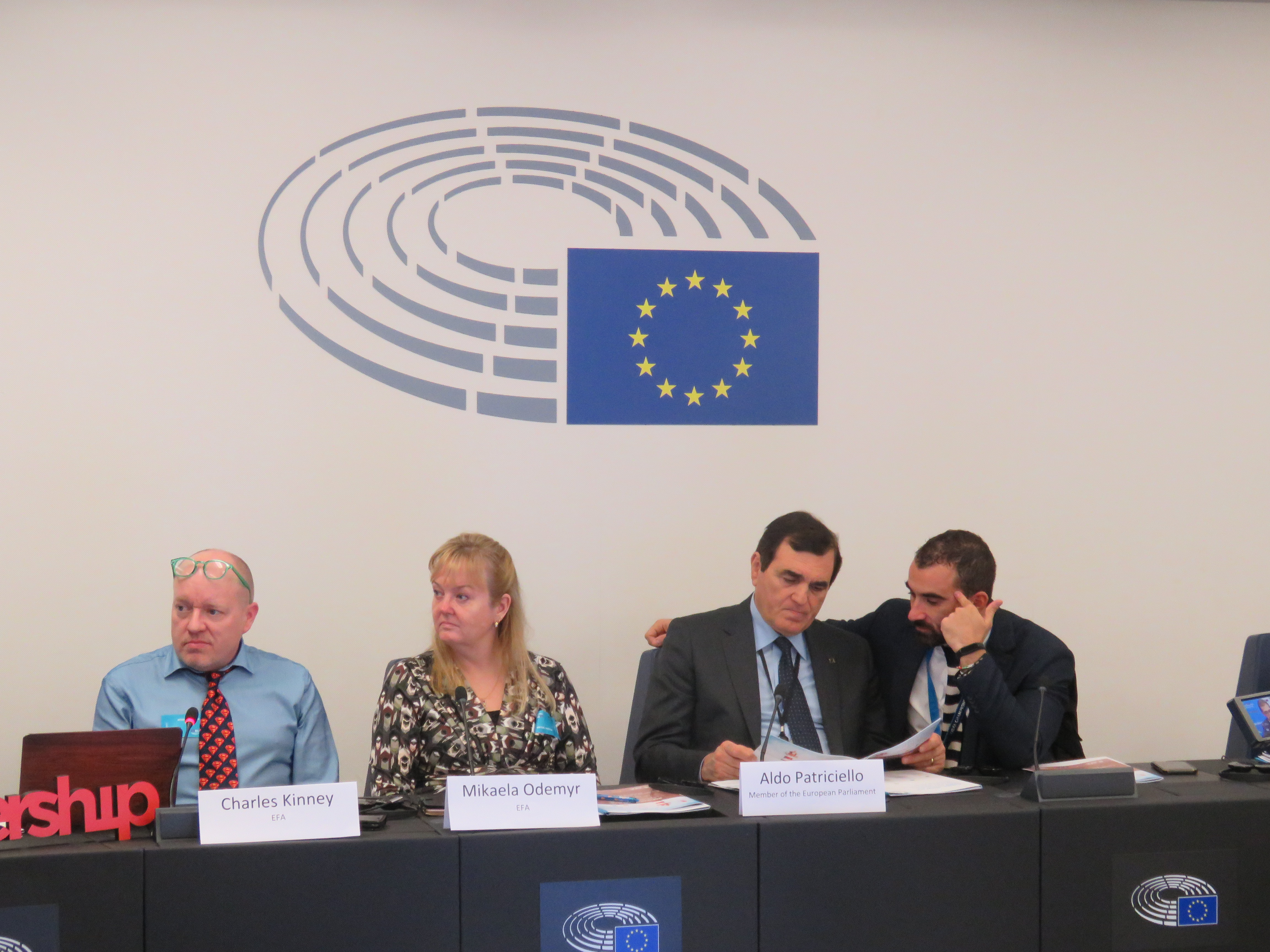 "We need to work on solutions" – A five-year vision
EFA President Mikaela Odemyr highlighted that allergy and asthma are among the most prevalent chronic diseases in Europe, with numbers being expected to even increase over the next decades. "What we need to do now is to take the results from our report and work on solutions," she said.
She also stated her clear vision for improving the situation of allergy, asthma and COPD patients: Considering access to digital tools, consistent health risk assessment and improvements on precautionary allergen labelling, Mikaela Odemyr highlighted, "I wish that patients have access to the care they need and that they are more actively involved in the decisions that are being made about their health."
EFA was also glad to welcome MEP Tilly Metz (EFA/Greens, LU) during the discussion, who emphasized on the need to take action towards increased prevention and research.
During the event, participants discussed the main outcomes of the EFA ACCESS report put into both European and national contexts. Emerging from the ACCESS report's results and EFA's #ShowLeadership campaign, EFA presented its new roadmap to patient safety, access to healthcare and eradicating inequalities.
EFA Report on Asthma and COPD Patients ACCESS to Diagnosis, Care, Prevention and Therapy
The recently launched EFA ACCESS Report shows that, asthma and COPD patients are far too often not actively involved in decision-making about their therapy: one-third of asthma and COPD patients do not feel involved in the decisions being made about their therapy.
Moreover, only one-third of patients are satisfied with the efforts of their national governments to protect them against risk factors for developing and/or exacerbating asthma, COPD and other allergies and airways diseases.
A focus needs also to be put on unequal access to diagnosis and treatment: 16 % of asthma and COPD patients initially received a wrong diagnosis, taking on average between 4.5 and 5.2 years to receive a correct diagnosis.
A Roadmap to patient safety, access to healthcare and eradicating inequalities
With the roadmap, EFA calls on EU policymakers to act on reversing preventable allergies and respiratory diseases, and reduce the overall burden of these diseases. During the 2019-2024 legislative term, EFA therefore commits to working with the European Parliament and expanding engagement with the European Commission to:
INFORM patients, policymakers and other relevant stakeholders to foster empowerment through patient education and literacy; the development, implementation and transformation of digital tools and evidence based-advocacy; and to promote policies that benefit patients;
Develop policies that PREVENT the risks of becoming a patient or exacerbating existing conditions;
Ensure equal access to the same high-quality CARE and tools for patients in all Member States.
Each of has a story but we all share common challenges. Therefore, EFA actively invites all stakeholders to keep their engagement high and continue to #ShowLeadership. EFA's new roadmap serves as a guidepost for patient organisations and policy makers to improve the situation for people living with allergies, asthma and COPD in Europe. Only together is change possible.