Digitalisation brings an enormous potential to improve health and care and the lives of patients. With new and emerging technologies, healthcare systems can shift from being disease-centred to being patients-centred.
The EFA Allergy and Respiratory Patients Conference will focus on the power of digitalisation and innovation to improve health services and empower allergy and airways diseases patients with asthma and chronic obstructive pulmonary disease (COPD) in managing their care.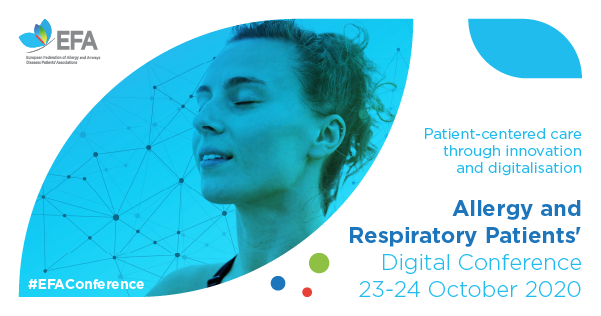 Through insightful sessions, you will discover different digital and innovative tools in research and care that can benefit patients, by improving diagnostic processes as well as treatment and the prevention of allergy and respiratory diseases. We will look into policy, research and patient focus as enablers.
The event will take place over two days. The first day (Friday 23 October) is open to the all. EFA will present the latest innovations and developments in personalised medicine for allergy, asthma and COPD. We will also explore the challenges of digitalisation and how to overcome them. Join us to discuss how the patient experience can be improved through digitalisation.
The second day (Saturday 24 October) is reserved for patient organisations active in the field of allergy and respiratory, as well as for individual patients. We will hold thematic trainings and workshops to develop new skills and improve health literacy. Together we can understand the global challenges that the allergy and respiratory communities are facing.
Register now for free and engage in inspiring discussion with our speakers and experts from all over Europe.
You can find more information on the programme and the speakers here.