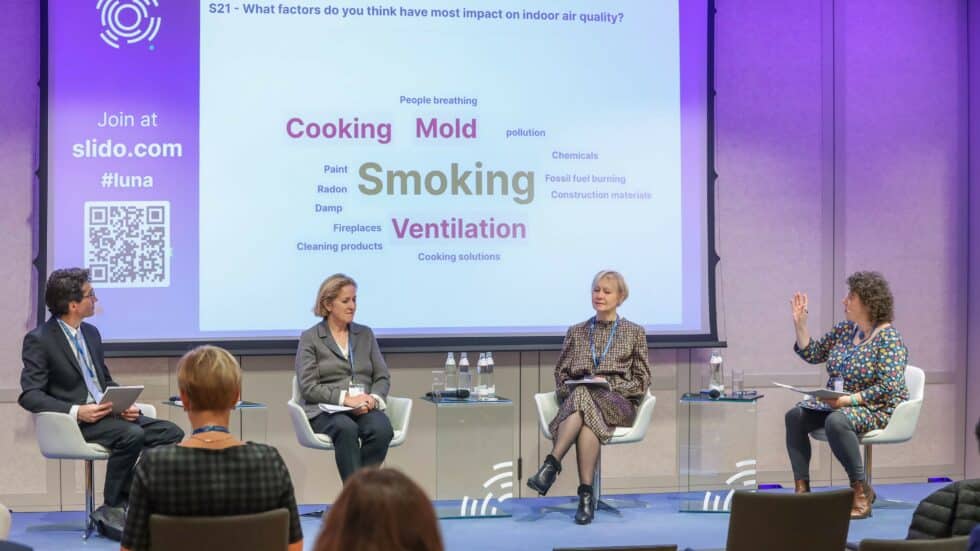 © Image by European Health Forum Gastein via Flickr.
On 29 September, EFA participated in a high-level discussion organised by the European Health Forum Gastein (EHFG) on Indoor Air Quality (IAQ) and how the EU can prevent health burden from exposure to indoor pollution. The session, 'Take a deep breath on indoor air quality: What role for the EU?', was organised as part of the annual event featuring key discussions on health policy in Europe, where EFA brought the perspective of allergy, asthma and chronic obstructive pulmonary disease (COPD) patients on the future of health policy.
The heavy toll of indoor air pollution
In her intervention, EFA Director Susanna Palkonen underlined the vital role that indoor clean air has for patients. Indoor air pollution is responsible for 10% of non-communicable diseases globally. Around 10-15% of new cases of childhood asthma in Europe can be attributed to indoor pollution exposure, while 3% of COPD deaths in Europe are due to indoor air pollution.
These figures show that the health burden of indoor air pollution is heavy, and disproportionately felt by patients with allergy and asthma. When faced with indoor pollutants such as dampness or mould, often people are left helpless, not knowing how to deal with it. That is why many EFA members have established their own national helplines, to provide advice to affected patients.
As an example, Ms Palkonen quoted Marie-Louise Luther, an IAQ expert from EFA Swedish Member the Astma- och Allergiförbundet, who referred to the difficulties many children with allergy and asthma face in polluted indoor environments such as schools and private homes. If a child already has the disease, they are much more likely to develop symptoms and show bad health outcomes overall.
In addition, Susanna stressed that IAQ is closely linked to socioeconomic inequalities, as poor people are more likely to live in houses with relatively high indoor air pollution and cannot easily afford renovation works.
Legislating for better IAQ: How can the EU help?
Susanna also referred to related EU legislation that can really make a difference for patients, such as the Energy Performance of Buildings Directive (EPBD) which is currently discussed at the European Parliament. In EFA's views, it would be an absolute failure to revise the EPBD without setting legal requirements for IAQ. With regards to the crucial issue of ventilation indoors, Susanna stressed that the EPBD needs to establish a clear legal definition, which is currently lacking from the legislative framework.
In addition, appropriate labelling for products such as cooking appliances can ensure that consumers are informed about the products they buy, as well as their functioning and implications for indoor air quality.
Finally, Susanna noted that today patients cannot lead the fight for clean indoor air alone, but rather all like-minded stakeholders are needed in the process. After all, despite splitting the topic for policy reasons, everyone breathes the same air, no matter whether it is outdoors or indoors.
You can access the full video recording from the session here as well as the an article from the European Public Health Alliance here.
Read EFA's statement on the European Performance of Buildings Directive on EFA's website.