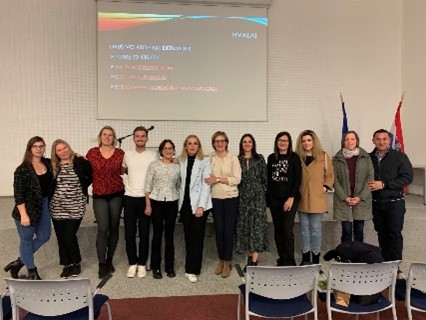 Based on its own previous successes, EFA member Društvo AD organised its first "Expo Atopica" outside Slovenia which took place in in Zagreb, Croatia on 12 November 2022. Expo Atopica was created in 2018 to build a meeting point between patients, caregivers, and experts of the field, and it will reach the seventh edition in February 2023.
According to the President of of Društvo AD, Špela Novak, the expansion of the event in Croatia was justified by "the lack of an association for atopic dermatitis in the country, and the demand of having the event in Croatia". Additionally, she expressed her wishes to expand the event across Europe, with the help of national associations, and help and support more patients.
The edition in Croatia was focused on providing guidance to patients and caregivers to better understand and manage atopic eczema. Several Croatian dermatologists were invited to provide information about the disease, its management, and its psychological impact. Industrial partners were also involved to provide discounts on products available for the participants.
The event was culminated with a speech of the President of Društvo AD, where she briefly highlighted "the importance of mental health, self care, acceptance of oneself and the disease", with practical advice for patients, such as healthcare, medication, emollients, and other welfare policies (financial aid, health centers, longer maternity leave, etc.).
Read more about Drustvo AD's Atopic expo series here.