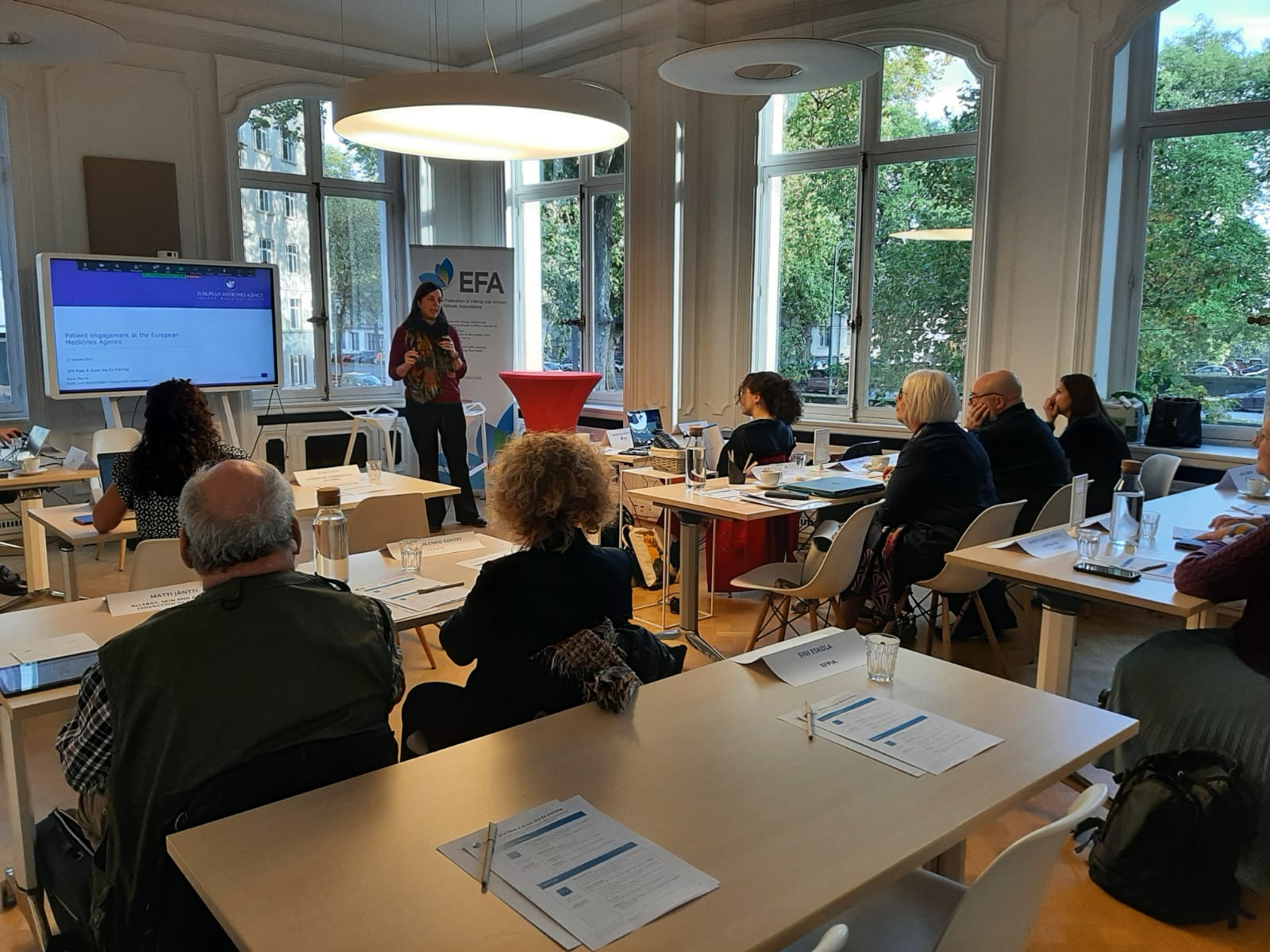 On 27 October, EFA held a Meet & Greet EU Training on the new, extended mandate of the European Medicines Agency (EMA), the setup of the Health and Emergency Response Authority (HERA), and Clinical Trials Regulation. All the three new EU developments are crucial for allergy, asthma and chronic obstructive pulmonary disease (COPD) patients in Europe.
The event had more than 15 participants from EFA members, expert patients, and Youth Parliament members in attendance, who actively engaged in the Q&A sessions. The comprehensive programme delved into how patient advocates can contribute to the work of HERA and EMA, and on clinical trials. The sessions were led by multiple external speakers:
Maria Mavris, Patient Relations from the Public and Stakeholder Engagement Department, EMA;
Inga Abend, Medical Writer, EMA;
Anne Simon, Head of Unit, HERA4 Emergency Office, DG HERA (Health and Emergency Response Authority);
Marta Valenciano, PhD, Lead epidemiologist, Policy-Strategy Unit, DG SANTE, European Commission;
Dr Solange Corriol-Rohou, European Forum for Good Clinical Practice (EFGCP) Board Member and Senior Director Regulatory Affairs & Policy, Europe at AstraZeneca
Sini Eskola, Director, Team Leader, Regulatory Strategy, European Federation of Pharmaceutical Industries and Associations (EFPIA).
Participants also heard from EFA representatives Marcia Podestà (Food Allergy Italia/EFA Vice president) and Erika Colen (Asthma and Allergy Association of Belgium). Each speaker shared their expertise around patient involvement to offer advice and guidance to the participants.
The EU ecosystem to prepare and response to cross-border health crisis
The day began with an introduction to the programme and its objectives, with a keynote from Marcia Podestà on the importance of patient involvement in all areas that affect them. Maria Mavris then provided a comprehensive introduction to EMA and its centralised authorisation procedure. She also highlighted the progressive journey EMA has undertaken to involve patients and consumers in their work. Mavris clarified how, and where, patients can be involved in the process across areas of interest such as rare disease medicines and marketing authorisation. Additionally, she presented avenues for patient involvement in scientific advice procedures and scientific advisory groups, including advice on successful engagement.
The morning moved forward to introduce the new mandate of EMA and the collaborative participation of the European Commission via the establishment of a new health emergency authority. Inga Abed, EMA, began with an overview of the extended mandate of EMA and its main areas of impact including medicine and medical device shortages and the Emergency Task Force and expert panels. Anne Simon, DG HERA, then highlighted the differences and synergies between HERA, EMA and the European Centre for Disease Control (ECDC). She detailed their mission to improve European health crisis preparedness through threat assessment, promotion of advanced research and development, and through collaborations within and outside the EU, and finished with a patient-centered vision for the future.
A novel framework for clinical trials
The afternoon was centred on the new EU Clinical Trials Regulation, where Dr Marta Valenciano, PhD (DG SANTE) and Dr Solange Corriol-Rohou, MD (EFGCP) introduced the new regulation, including tools and opportunities to increase patient engagement throughout the process.
Finally, the afternoon concluded with a multistakeholder discussion on the impact of the EU Clinical Trials Regulation. It featured patient representative and EFA Member Karen Vande Casteele, Dr Solange Corriol-Rohou, MD representing civil society, and Sini Eskola from the European Federation of Pharmaceutical Industries and Associations (EFPIA). Each began with a definition of the most important aspects of good clinical practice to their respective communities, highlighting the impact of the new regulation on each. The discussion brought up various concerns and opportunities from the different stakeholders including adherence and clinical trial efficiency, a centralised ethical review process and of course, patient safety.
The participants enjoyed comprehensive and unique insight into the effect of the EU Clinical Trials Regulation, helping patients and member associations build their capacity to meaningfully engage in processes governing and advancing their healthcare.
Couldn't make it to the event? Inquire with This email address is being protected from spambots. You need JavaScript enabled to view it. for the recording and/or presentations.
In the meantime, click here for upcoming events and follow EFA on Twitter, Facebook or LinkedIn for updates on future trainings.