On September 14th, World Atopic Eczema Day, patient communities across the globe join forces to raise awareness on the psychosocial burden of children and youth living with Atopic Eczema (AE). Also known as atopic dermatitis (AD), atopic eczema is one of the most prevalent skin diseases in the world. It is a non-communicable and chronic skin disease that usually develops during childhood. It affects body and mind of over 230 million people worldwide, whereby approximately 43 million are aged 1-4, which shows the startlingly high incidence in young children.
2023 Theme: #IfYouOnlyKnew
Often dismissed as "just a skin condition", atopic eczema requires instead a full multidisciplinary team to be properly managed, also to tackle stigmatization and its consequences on the most vulnerable. For this reason, together with partners from GlobalSkin, EFA launches World Eczema Day 2023 campaign to support those who live with atopic dermatitis every day, bringing to the center patients' feelings and appealing to the audience sensitivity. A social media campaign will pivot on the hashtags #IfYouOnlyKnew and #AtopicEczemaDay, implying that there is an amount of invisible consequences regarding what happens in a patients' life and in affected teens' and their carers' emotions.
Young patients from different countries have actually contributed in developing the messaging of the international campaign, providing their thoughts on their fears, concerns and desires for their life, also opening a route for the empowerment of their peers dealing with similar conditions.
How to participate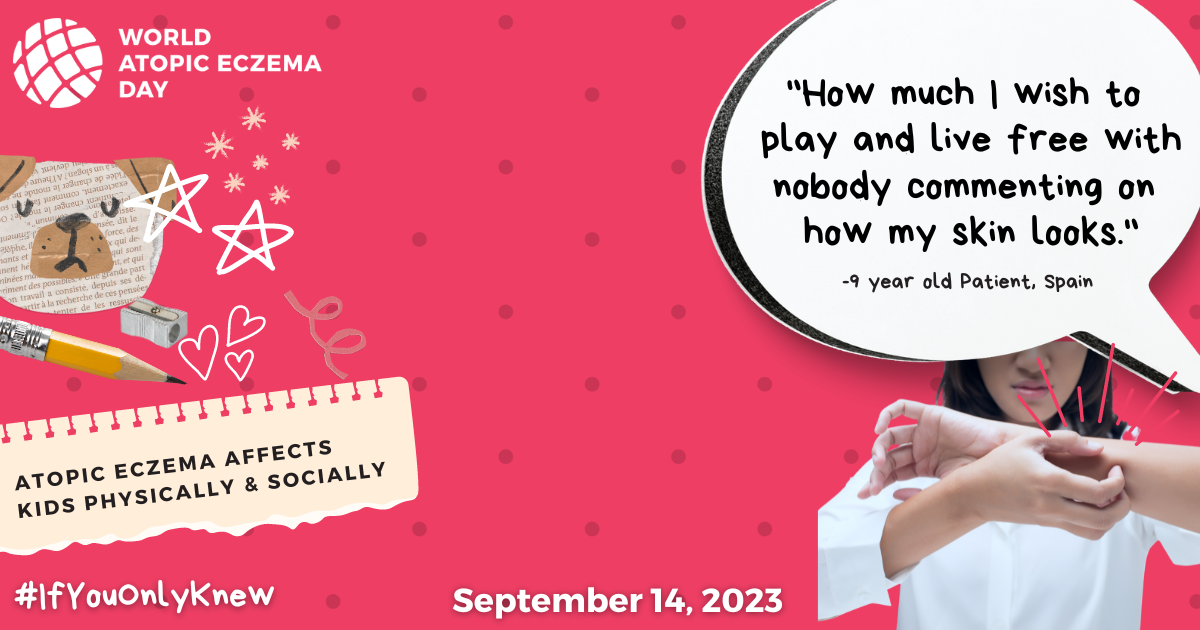 Join EFA's campaign and the growing global community to empower young people living with atopic eczema and encourage healthcare professionals and policy makers to address the full range of atopic eczema's impact.
Download World Atopic Eczema Day Campaign Toolkit 2023 to take part in the campaign on 14 September 2023 and support young patients' voices.
Participate in the online conversation on channels like Twitter, Facebook and LinkedIn, use the hashtags: #IfYouOnlyKnew and #AtopicEczemaDay.
For more info on World Atopic Eczema Day 2023 campaign and how to join, please visit the campaign page.