EFA Events
[EFA Capacity Building] Meet and Greet training
EFA invites you to join our online training days on 10 and 17 February 2021, as part of our Capacity Building Programme.
The two-day programme, titled "The EU at a policy crossroads: What role for allergy, asthma and COPD patients?", is designed to increase understanding among EFA patient networks about the policies and opportunities surrounding the disease areas EFA addresses.
The Meet and Greet is open to staff, volunteers and members of the Board of EFA members. Non-EFA members are also welcome on a case-by case basis. REGISTER.
[EP Interest Group on Allergy and Asthma] Launch of the EA2 Youth Parliament's policy recommendations
EFA and EAACI invite you to the digital launch of the European Allergy and Asthma Youth Parliament's "Growing up with Allergy and Asthma – How EU policymakers can support young allergy and asthma patients to live better lives".
Hosted by Sirpa Pietikainen (EPP/Finland) and Tilly Metz (Greens/Luxembourg) Chair and Member of the European Parliament Interest Group on Allergy and Asthma, the recommendations offer new ideas to address the specific needs of young patients with allergies and asthma in Europe.
The event will take place online on Thursday 10 December at 15:15-16:45 CET. REGISTER
EFA Allergy & Respiratory Patients Digital Conference, 23-24 October 2020
We are thrilled to announce our Allergy & Respiratory Patients Digital Conference on 23-24 October 2020. Join in this event focused on the power of digitalisation and innovation to improve healthcare for allergy and respiratory patients. Register now to not miss out!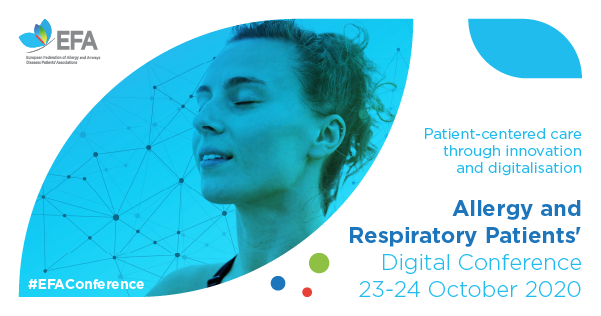 Become an ambassador for young allergy & asthma patients in Europe!
Do you live with asthma and/or allergy? Do you want to participate in decision-making affecting your health? Are you interested in meeting and sharing experiences with other young patients from all over Europe? Then you should become part of the European Allergy & Asthma EA2 Youth Parliament! (REGISTER)
EFA Annual General Meeting of Members, Iceland, 30-31.03.2020
EFA inivites all its members to the 2020 Annual General Meeting, hosted by the Asthma and Allergy Association of Iceland and the Icelandic Lung Association. The EFA Annual General Meeting of Members takes place from 30th March 09:30h to 31st March 17:30h 2020 at the Grand Hotel Reykjavík, Reykjavík, Iceland. (REGISTER)


EFA FoodDETECTives breakfast meeting in the European Parliament
EFA organises an event at the European Parliament in Brussels on Thursday 12 December 2019 to launch the report that resulted from its flagship project 'FoodDetectives'. The report looks at the quality of life and the burden of the disease of people with food allergies in Europe, with a focus on the implementation of the EU Regulation 1169/2011 on Food Information to Consumers (FIC), in particular its provisions related to food allergen labelling. Based on these data, it sets out recommendations for both food business operators and regulatory authorities for the better management of allergens in food. An agenda of the event can be found here. (REGISTER)
December 12th, 2019 8:30 AM through 10:00 AM
[EP Interest Group on Allergy and Asthma] Championing a renewed EU agenda on allergy and airways diseases for a healthier Europe
EFA and EAACI are organising an Interest Group breakfast meeting in the European Parliament on 20 March from 8.30 to 10.00am, co-hosted and co-chaired by MEP Sirpa Pietikäinen and MEP Pavel Poc. Apart from fostering the dialogue between policymakers and civil society, the event will signal the launch of the Blueprint of the Interest Group on Allergy & Asthma, which reaffirms its commitment to better research, prevention and care policies ahead of the European Parliament elections in May and the new Commission in October/November. (REGISTER)
March 20th, 2019 08h30 AM through 10h00 AM
European Atopic Eczema Awareness Day
Join us to mark future 14th of September as the European day highlighting the lives and needs of patients living with atopic eczema in Europe.
To be part of the mailing list with updates and news to prepare for this day, please contact This email address is being protected from spambots. You need JavaScript enabled to view it.